We are OPEN but you MUST CALL and BOOK yourself onto the specimen lakes before turning up. You do not need to book onto the coarse/pleasure lake but you do need to come into the office first before fishing. NO MATCHES.
Enjoy fishing in the beautiful Kent countryside all year round
Here at Orchard Place Farm you can surround yourself in the natural beauty of the Kent countryside, located just outside of the picturesque town of Paddock Wood, just 8 miles from Maidstone.
The fishery is open from 7am all year round and boasts some 13 lakes (10 carp and catfish lakes and 3 for match/ pleasure fishing). We have a 30 peg silver fish lake.
ALSO AVAILABLE: Horsmonden Fishing Lakes – local lakes 8 minutes drive from here.
Please note: Anglers must report to the office first before fishing.
Our fishery is family run so you can be sure of a warm friendly welcome. We do our best to cater for all anglers, from the serious specimen angler to those who just want to escape for the day and leave the rat race behind.
We have many swims with disabled access and have all weather pathways leading all around the lakes and up to each individual swim. We also have purpose built toilets located in the main car park (this block also has hot shower) and between Lake 3 and Lake 4 (this is a toilet and sink block only). The block by Lake 7 contains a microwave and fridge as well as washing up facilities (please remember to leave them clean and tidy!).
Tackle Shop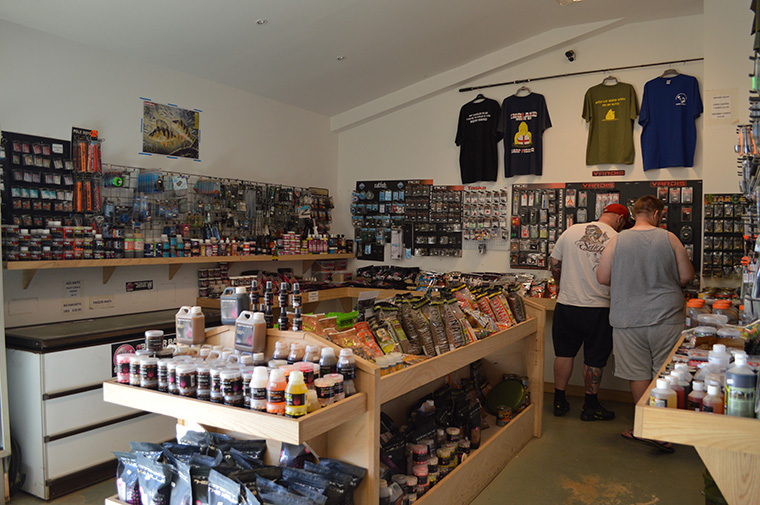 In the main car park there is a competitively priced Tackle Shop stocking all the often forgotten items like bait stops, hooks, weights, etc. not to mention all types of bait, ground bait and particle.
We stock Mainline, Gardner, Dynamite, Bait Tech, Rod Hutchinson, Sticky Baits, DNA Baits, Urban Baits, CC Moore and Catfish Pro.
Food Outlet
Food is also available on site and is open in peak season from mid-March to October. Open Friday, Saturday and Sunday.
Fishing Lakes
Access to the lakes could not be more simple with our main car park right next to Lake 1 and a very short walk to Lake 2, our rear car park is next to Lake 4, a very short walk from Lake 3 and right next to Lake 5. We then have a match car park which is next to Lake 6 and Lake 7 has its own car park adjacent to the lake.
Our new Lake 12 which opened in January 2019 holds Carp up to 36.5lb and Catfish up to 62lb. The lake is 5 acres and features 4 islands.
For more information on all of our Lakes please go to the LAKES page